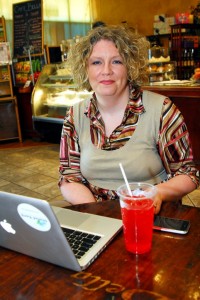 Today at 7 pm my PR client Jessica Miller Merrell? with Blogging4Jobs.com will be debating with an attorney about the benefits and implications of using Social Media at Work.  Obviously, as a social media advocate who has been using these tools before case law ever existed, I'm an advocate of social media at work.
Who is Jessica Miller Merrell?
Jessica Miller-Merrell, SPHR known as @blogging4jobs is an Internet television host, author, speaker, new mother, and human resources professional with a passion for recruiting, training, and all things social media. Jessica is a leader in the HR social media community and has over 10 years of experience in human resources and recruiting. She hosts the first and only Internet webshow for job seekers on Mingle Media TV called Job Search Secrets. Her book, Tweet This! Twitter for Business was released in February 2010.
Ready for hot debate? Lets create some BUZZ!
The attorney, Tynan Grayson at the Grayson Law Group (formerly with Crowe and Dunlevy) will be discussing and debating the following topics:
(1) the potential for legal liability
(2) the right to privacy
(3) other potential negative consequences
I will be talking about the following:
(1) monitoring obstacles and tools to use
(2) community, collaboration, professional development in the workplace
(3) social media as every day use with a focus on mobile usage
How can you participate?
Here is what Jessica said:
"The debate takes place at UCO starting at 7:00 PM CST in the Business Building on the 1st floor.  I'd love to demonstrate the power of social media with a focus on community and crowdsourcing.  I will host a one hour chat, Social Media at Work or #smwork.  During the course of the hour while we are debating, I will have the big screen stream the twitter #smwork Twitter stream.  I will pose a series of 5 questions over the course of the hour to get the ball rolling.  There are no rules and I encourage innovation, collaboration, and creativity."
Ready to ask questions about using social media at work?
We need your help..
Join us tonight 7 pm
See you there
Tatyana Gann