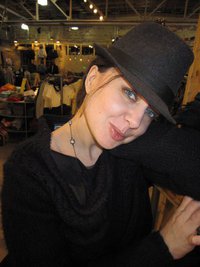 "Discover 3  Types of Trendy Publicity Topics Media Loves and Wants to Hear From You!"
I love this quote: "Reporters are like alligators… You don't have to love them, you don't have to even like them. But, you have to feed them!"
SO… What are you feeding the media today?

As you can see, I love hats. Any hats. Cool, funky hats and even very girly hats! Trendy stories are like hats. People love hats. They change them every season. They love unique hats. Some people love funky hats. Some love simple, french beret style.  Some love the sporty look. But at the end of the day, they are all just hats!

Have you ever been to a bookstore and stopped by a  magazine shelf that NEVER carried stories related to money, health and sex? I am sure you know the answer. Every single shelf in a bookstore is filled with magazines on improving relationships, money situations and how to become healthy!
The same topics are like magnets. We are drawn to them every time we enter the bookstore or even if we search the trends on Google! We see the same topics being discussed in social media and audiences love to hear them because they are entertaining first, then educating! These topics brings up an interesting point:
How much information can readers handle from the media sources? It seems as if the same old information is repeated and then repackaged again and again to fit the trends and time of the year!
But people still want it! The Media gives it to readers because they know people have lives and these topics are what everyone talks about, regardless age, city they live in, the language they speak or their personal interests.
Here are the 3 main topics that get the MOST attention:
1. Health
2. Money
3. Sex/Relationships
Take a look at the top magazines like Redbook, Oprah, Inc.com, Fortune 500, Elle and more and you will see what the media sells to you every day! They sell headlines. They are dynamic. They are fun and they honestly give you the solutions right in the headlines!
The headlines on the front of a magazine make you open it up and read it. It might be the same or similar information you have seen before and now you are reading it for 13th time! Why?!? Because it has a story about your favorite celebrity or the headline matches what you are feeling at this moment!
The Media uses FEELINGS, EMOTIONS! They know that trendy topics are always going to be trendy when they add that extra flair to it, but in reality all stories have the same message: Improve your relationships/sex, your health and your money situation. Especially this month of December, everyone wants to have the most romantic magical events, improve their health and find healthy eating choices, find time to exercise and make a plan on how to pay for holiday gifts and start the New Year without debt!
The Media knows the weakest, but the most interesting points in people's lives. The Media wants to know your stories and how they relate to what the audience WANTS. Again, remember your ultimate goal  is to educate, but in order for your customers and clients to be educated, you must break the ice and start by entertaining them! How? By sharing real, fun stories, adding videos about your clients and how your business helped them. You can also add personal/business growth videos. Your goal is to show the audience that you are a real person who loves life!
That is why topics such as Health, Money and Sex have such a media appeal!
You have to remember one thing: The Media still plays big role. Though customers give huge feedback via social media, big media sources play a BIG role. Take for example, Oprah's daytime show. Her recommendations, her endorsements, appearances of leaders, innovators and authors on her show give HUGE boosts to their careers. Why? They all speak about the following related topics: Health, Money, Sex/Relationships! Even celebrities such as Dr. Oz, Dr. Phil, Rachel Ray and many more!
My next newsletter is about Perfect Headlines! So, now that you know what the Media wants, lets start crafting Perfect Headlines!
Best wishes
Tatyana Gann
Tatyana Gann is the founder of Smokin' Hot PR  Ezine, and SmokinHotPR Boutique, providing publicity, online PR services and even private VIP coaching. Tatyana is a published writer, a mompreneur, a lover of international cuisine and red wine! Grab her free publicity and promotion tips via her newsletter at http://www.smokinhotpr.com/