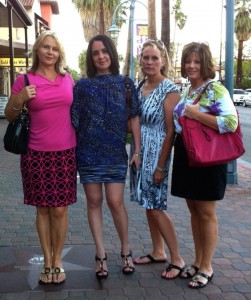 Just a few weeks ago, I spent time with some of the most beautiful business women on the planet!  They are amazing women with big hearts, passion for life, for personal growth and serving others! We also made a video with a photo album to show you how social media brought us together (I hope you enjoy our feminine touch to it)!
As you know, entrepreneurs  tend to be risk takers, go givers and their income is the result of their mindset and actions combined.  When it comes to women running a business, women focus on giving 100% of their heart and energy because of the "mother hen" instinct that shines through!
Recent statistics show that more women start businesses now more than ever, and a very small percentage reach the million dollar income mark… Why?…What happens?
Lets look at these 5 qualities that I personally see women need today in order to reach true success in their business!
Top 5 best qualities:
1. Willingness to help
2. Empowering others
3. Determination
4. Giving heart
5. Teaching others
Watch the video. Tell me your thoughts. Feel free to leave comments and I hope it can help you to put things into perspective!
Tatyana Gann
(c) Copyright 2011 Tatyana Gann. All Rights Reserved
Tatyana Gann is the founder of SmokinHotPR Boutique. Tatyana Gann provides VIP publicity services. To Learn More about simple promotion and PR tips to spread the word about your business get an instant access to her publicity newsletter at SmokinHotPR.com