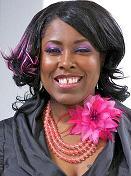 Maryland female entrepreneur and life coach, LaTalya Palmer-Lewis, finally reveals how she broke the cycle of generational welfare and abuse and launches her brand new success blueprint, "From Victim to Victor, Getting Unstuck and Taking your Dreams to the Next Level!"
Known as an energetic, ambitious entrepreneur, LaTalya Palmer-Lewis openly shares her life story which was filled with self hatred, sexual abuse, feeling abused, abandonment, and feelings of worthlessness with no desire to live!  Her silent struggles showed up in failing relationships, lack of joy in life, constant struggle, and not doing the work she was called to do.
Reflecting on her life struggles, Palmer-Lewis said, "Growing up in communities that magnified poverty, and surviving sexual abuse at the hands of my father, left me feeling worthless, doubting, not trusting myself or knowing my value. I dropped out of college in my first year to become a mother at the age of 19, however, I was still able to break many generational cycles to help my children live a greater life. I did it and I can truly empower women to overcome the hardest moments in life."
These struggles were the starting point of changing her life! Palmer-Lewis spent many years healing, learning, working with women, hosting various workshops empowering women, transforming one life at a time.
In a recent interview, Palmer-Lewis stated, "Women can break generational welfare or any mind-set that has limited them and be in total control of their lives. They can regain their pride and fill their lives with joy, harmony and success!"
LaTalya Palmer-Lewis has a powerful mission: teaching compassion, self love, success strategies and overcoming challenges during the most difficult of times! Despite the lack of a traditional education, Palmer-Lewis was determined to change her life and the lives of other women.
Palmer-Lewis knew her life experience was far more valuable than what could be learned from books. She studied under masters of transformation, used life experience and revealed her blueprint to others; the exact footsteps she took to change her own life! Her passion to transform the lives of women took her to speaking in front of large audiences. Her talent and abilities to teach and guide became very effective… so effective that she even created a series of training products that women can have in their own library!
Palmer-Lewis' success blueprint "From Victim to Victor – Laying the Inner Foundation for Your Success!" infuses a luscious blend of Quantum Physics, personal empowerment, healing and spirituality to help women achieve "Wholistic Success".
LaTalya Palmer-Lewis believes that success is a holistic experience.  Her message encourages and inspires many women, and she believes it will inspire you. "Step by step, I learned to listen to that voice inside of me, trust what I did know, listen to those who had my best interest at heart; explore and use my talents and gifts while doing something new and practicing until I got really good at it.  Even when I failed miserably, hurting myself and others, I stayed committed to my growth and healing so I could experience another side of myself and life-honing in on my innate and creative power."
To get instant access to the Success System: "Victim to Victor – Laying the Inner Foundation for Your Success!" visit LaTalya Palmer-Lewis' site: http://unleashyourgeniusnow.com/home/
For media: LaTalya Palmer-Lewis is available for interviews and expert quotes.
About LaTalya Palmer Lewis
Certified Comprehensive Coach (Life Coach and Soul Coach). Certified through The Coaching Institute founded by Terri Levine. Credentialed Empowerment Trainer and Certified Family Development Worker Inaugural Member of Epiphany PR; Speaking Volumes! Speaker's Bureau. Member of The Black Professional Coaches Alliance founded by Veronica Conway. Connect with LaTalya Palmer Lewis On Twitter