Guest post brought by Angela Giles
Twitter Apps are almost as fun as tweeting, itself. As new apps are being developed almost daily, it is clear that this micro-blogging platform intends to be here for the long-term. Hence, using Twitter apps that help enhance it is a great way to engage your tweeting friends. It is also a great way to manage your day-to-day busy life.
Its initial use as a short message system has evolved into an all purpose and game-changing platform. Business, lead generation, non-profit, customer service, Twitter has something for everyone.
Here are 5 fun apps for it that you might not have heard of before. Not only are these Twitter Apps engaging, they are useful in managing your busy day- to- day life.
1. ASKch. An incredible healthcare resource, ASKch allows you to send a question about healthcare costs and options in your neighbourhood, and receive an automated response and information link within 60 seconds.
2. Twitter for Busy People. Need to know at a glance what your Tweeting friends are up to? Twitter for Busy People collates their images into sections and lets you hover over them for the latest update.
3. CheapTweet. Almost like a Digg for deals, CheapTweet collates all the best retail offers being tweeted, and allows folks to vote on the best ones so you can save the most.
4. Twitgift. The idea behind Twitgift is incredible. Want to send a gift to a fellow tweeter? Choose a gift and send a tweet to them, and if they accept it gets mailed out to them. You don't even need to know their address, Twitgift takes care of this.
5. HootCourse. A fabulous idea, HootCourse takes educational tweets and builds online classes around them. Virtual classrooms are created and students and teachers meet to hold informal classes, complete with teaching materials and formats.
Can you imagine adding one or more of these Twitter Apps to your tweeting days. The idea behind them is to engage you in delegating your time just a little bit better. Plus, these are five Twitter apps that might add a bit of spark to your daily tweeting. How about you…do you have any other tweeting apps you've found worth sharing? The comments are yours.
Original blog post is on AngelaGiles.com
Lets us know what apps you use today that helped your business and we love to bring more helpful resources to you!
Tatyana Gann
Founder SmokinHotPR E-Zine
Publicist, Consultant, Mompreneur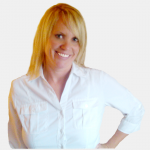 Who is Angela Giles? Angela Giles is a "Simple Secrets BIG Results" professional who currently serves thousands of people every single day. Her time tested online and offline strategies help the Solopreneur develop, maintain, and increase a Business where they see BIG results happening on a daily basis.
Generate 19 New Leads Every Single Day Using these Twists with Twitter http://www.eternalleads.info