As I am approaching 40 I realize how much time and energy we, women, invest in our beauty,  health and creating success.  One of powerful lessons I learned was a lesson about inner beauty and self love . It all starts inside before it shows up on our face…However, women are always looking for the ways to look and feel good! They are also looking for a solid opportunity to create better life choices.
I have read this quote by Nicholas Sparks, "But even though she was attractive, there was something else about her that caught his eye. She was intelligent, he could sense that right away, and confident, too, as if she were able to move through life on her own terms. To him, these were the things that really mattered. Without them, beauty was nothing." Women must embrace their inner beauty and learn how to love themselves. When they do it shows!
That is why I am very excited to share great news about NeriumAD, an anti-aging discovery that created massive results in less than 14 months. It is finally reaching Russian Women in America.. As a part of my PR project for NeriumAd we have launched a marketing campaign sharing education on inner beauty, health and women lifestyle.
Our first step was a  marketing campaign in the Russian health magazine for women called "Zdorovie" ( translated as HEALTH) and we are very honored to showcase NeriumAD in November issue.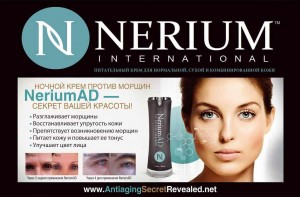 We are in the middle of designing and developing media stories right in time for the Holiday Season.  As we are launching a major campaign for an antiaging breakthrough NeriumAD and we are accepting new brand partners to leave a legacy of life changers and launch local markets in US and later in Canada. When most families are strapped for cash Nerium International is allowing moms and dads to replace income or create additional income. With a big focus on inner beauty, personal development, NeriumAD product  brought a new wave of confidence, self love and prosperity. It is more than a beauty product.  It is a life transformation vehicle for you and your family!
Step 1: Watch Success Secrets Video
Step 2: Purchase our business premier pack today
Once you join our team, you will receive these awesome bonuses. I call it Local Market Launch Made Easy Training.
Business building training from top income earners (PRICELESS!!!)
Team marketing and training webinars and team support
Your customized promotional campaign designed and developed (Value $1000)
Press release system available to you and we will write a press release  about your partnership with Nerium and submit to PR directories. ( value $300)
Weekly promotional creative marketing training and consulting (value $1000 )
Weekly Personal development and spiritual growth training and mentoring (phone sessions or skype sessions)
Resources to advertise your business and promote you ( priceless)
We look forward to our partnership
Tatyana Gann