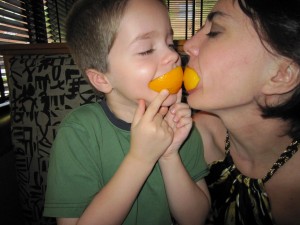 The sun was shining bright. I watched the helicopters landing on the hospital rooftop while I was marching into the clinic for high risk patients. I was smiling inside, knowing that in less than an hour I would know the answer: boy or girl! Over 6 years ago, on April 20, 2005, my life was turned upside down. The doctor, after telling me I was going to have another boy, gently closed the door behind us and called for the nurse to come in. I was paying attention to all that he was doing. I felt an extreme pain in my heart, knowing something was not right. As usual, the doctor started out by asking how I was doing. My happy face was glowing… the "Pregnancy glow".
Then, he said to me, "Unfortunately, we have bad news for you Mrs. Gann… and it is up to YOU to decide what you do with your baby." My heart suddenly sank. I was confused, puzzled and asked what was going on. The doctor continued by telling me that my baby would be mentally retarded because of a rare case of spina bifida. Also, that my baby could have Down Syndrome. I remember feeling nauseated, smashed… devastated.I could not believe this was happening to me! But then, some power within me made me a mommy warrior. Suddenly, I had a simple answer… "NO"… No abortion! The voice in my head said, "God does not give you more than you can handle…" I remember it so clearly. Then, I said to my wonderful doctor, who was sitting in a brown leather chair, " You know, I am not giving up. I will fight for my son's life. He will give a me a reason to be a better mom. I will be the best mom for my boy. "  Tears were rolling down my cheeks. I did not care that I had a makeup on and a cute little yellow sundress on with my 5 months pregnant, protruding belly. All I cared about was my son, the little angel that was given to me for a reason; to teach me a lesson of unconditional love, faith and hope.
I made a choice to give the gift of life to my son, without knowing the final outcome… knowing that the real outcome is a lesson of faith, hope and love. I had faith knowing that the fluid around his brain would go down… that his tiny body would grow and develop. I believed in prayers. That very moment when I said "NO!" to terminating my happy pregnancy and my wonderful glow, I had an inner glow- feeling… an amazing sense of peace. I felt DIVINE power within me, holding me together and wanting me to rely on HIM.
And I did…
I remember calling my British friend Maria and the first thing she said to me with her lovely british accent, "Tatyana, your baby is fine and he is going to be a genius and a happy boy!" Oh, how I wish I could have believed it 100%… I wanted to believe. I realized it was my duty to believe. It was an honor to have the ability to believe in the best outcome.  I had to lay my ego aside and stop asking God "Why me?". I had to become strong for my son.
The hardest time in my life were those 4 months of waiting for the birth of my son since the day our doctor and other doctors after,  gave their prediction.  On July 19, 2005 my son was born and rushed into the ICU of  the Children's hospital. I remember lying in my hospital bed awaiting, humming a song. I usually joked with the nurses around me and I was very hungry.  I had my mother with me holding my hand and smiling at me without saying a word.  Her beautiful presence made things so much more wonderful and peaceful. I am forever grateful!
After a series of several brain scans, the nurse brought my little baby boy back in to me. She smiled and said, "Girl, you've got a miracle baby here!!"   The doctor said there was no trace of fluid! My little baby boy was perfect. He was smiling at his mommy. I knew RIGHT then he was an angel from above with a mission to teach me and others lessons of life.  He taught me the most important one: faith and love right in that very hospital room.
The reason I am sharing with you a small chapter from my book  entitled "My Russian America" is because that so often we do not know how to trust, keep faith and learn how to love.
It was about trusting all the way to the end. Never giving up when we feel we cannot see the light or hear anything that resembles a solution. We often give up when things are unknowingly about to go in the right direction. Today, my little boy Daniel is my comedian and my supporter.  He loves to kiss me every morning and snuggle with me. His passion for life is felt through it all. His beautiful blue eyes are like deep ocean waves, always expressing love, joy and compassion.
Every time when I feel down, when things happen in my life , when business takes an unexpected turn, or when I feel I am losing faith, my little Daniel reaches out to me… and while sucking on his thumb,  he says the most beautiful words, "I love you Mommy… thank you for loving me."
It was about NEVER giving up. He taught me how to remove doubts and replace them with love. He taught me how to laugh and to trust more.  He became the best teacher for me of unconditional love.  He is my little gentleman, which I adore and am grateful to God for giving me such guidance.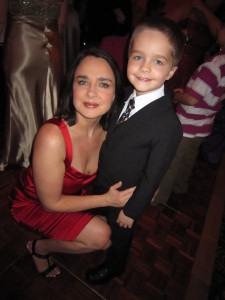 He became one of my biggest reasons to accepting the status of a "mompreneur". He taught me how to face challenges with a noble attitude, to celebrate small victories together, to laugh when you feel like crying,  and to also laugh when I felt truly happy and how to be a child again. He has awakened my spirit, teaching me the true meaning of love. Loving myself, so I can be the best MOMMY for Daniel.
A Lesson we can all learn here: Never doubt yourself. Have faith when everything looks bleak. Fill your heart with gratitude.
Thank you Daniel for being my mentor…You are only 6 years old and your wisdom is beautiful!
Love & Hugs to you my little Daniel!
Your faithful student, personal chef (and sometimes drill officer),
Mommy
Tatyana Gann is the founder of the Smokin' Hot PR Ezine and Smokin' Hot PR Boutique, providing publicity, online PR services and even private VIP consulting. Tatyana Gann is ready to bring you publicity tips, advice and PR services to help you gain more raving fans for your business and create smokin' hot publicity! She has a simple formula for creating a publicity plan that brings results! Grab your FREE publicity weekly advice at: http://www.smokinhotpr.com/