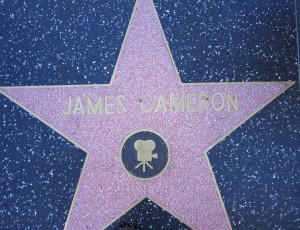 Want more web visibility, best reputation online and star like publicity?
Just few months ago I wrote about a marketing lesson I learned from a super star. I was very fortunate to meet James Cameron, the director of Avatar and Titanic, at the local fund raising event featuring local Nashville designers.  It was a cool experience to meet a star, but honestly to me he was a regular guy who became a star because of his passion, talents and determination. He discovered what his purpose was in life and took action! He has an amazing online and offline publicity and even some folks did their best to point out his negative qualities.  His web reputation is not the best because everyone today who has I-Phone or Droid can become an instant reporter.  But when you are  a star, things happen…It comes with territory right?
What about you? How do you build your star like publicity?
Have you felt you were stuck in the old marketing ways, using traditional newspapers, magazines, radio spots? I do not mean they do not work today. They do.  However,  there are many proven, classic methods that you can use that are cost effective, long term and stable.  It is very important to set a publicity goal.
If you are writing your newsletter, blog post or press stories for the upcoming week, make sure keep in mind two things. Your publicity goals and your message.  Yes , I am talking about your  publicity goals. WHY? Your publicity will help your company do this: It can tell your customers how to buy and use your product and service. It can persuade them to buy it. It can also communicate myths that someone created about your business. Remember it is all about reputation and being an authority. Let media and thought leaders talk about you and say how amazing you are !!! Your message must be very clear and narrow. Your message cannot solve all the problems  for all mankind because if you do think so then your story w ill mean nothing to anyone.
Now you can may ask me, "What are the most effective  online publicity methods ?"
Publicity Method # 1: Press Releases–
Press releases are not old fashioned method. They are back in fashion and now you can write various types of press releases: from SEO, Video PRs to Social Media Releases utilizing all the social networks, SEO tools and video channels. You can FINALLY become your own PR and build credibility for your product/business/company brand.  Did you know press releases are more effective than PPC ads? Imagine how much people spend a day on PPC ads and think about how good search engine optimized press release can do for you short term and long term.
According to research US companies spent almost 10 million on PR while spending 220 billion on advertising.  Personally, I see  how
Before you write a press release you must follow this simple and basic formula:
Make a list of 5 Ws and H:
Who, Where, What, When, Why and How.
Who is doing what for a company, a person?
When, where and why they do it?
How is the product/event being done?
What are results your customers can expect?
Your Press releases must answer these important questions:
You must be specific and show why your info product/service is exciting for your buyers and what it will for them.
You must show how your new product/service can bring CHANGE to your customers life comparing to other products available online.
What are specifics of your product/service?Do you have case studies to back up the product offers? Show them
Guidelines to writing an effective press release
Determine the angle of the story: writing about event, product launch, expert revealing the truth. You can truly come up with over 50 reasons to write such as awards, workshops and case studies of your customers.
Determine your buyers: what do they do on a daily and weekly basis and their lifestyle. Write what you know about them. It is your profile exercise. It will help you.
Your goal is to focus on your headline and press release description: that is what Google wants to see and what your customers will see. Create controversy and compelling to turn heads in YOUR direction. Only 72 characters.
The Purpose of Online Press Release: It is about seeking and informing buyers where to get what they need to get fast and efficient.  It is about  creating a story that compels them to come to you for more. It is about being an authority and stand above. You show you have high standards.
Your press release must be objective: write a press release in 3rd person. Writing about yourself will do more harm to you than you think. Keep your excitement under control.. You can express it in your quotes. That is why hiring a publicist to write about you is a good thing.  My clients tell me they would not write about themselves because it would feel like bragging.
Write Quotes/your opinions: It is something you think about, said and mentioned to others. Use quotes as John Smith said, "your quote/opinion"
Media coverage: If you want to get media coverage explain why your product is unique to public and include few examples.
For Buyers: Give away  a FREE report, FREE e-book. Plus BONUS for the customers who act FAST.
500 Words: Keep under 500 words but no less than 400 words. Your customers and media do not have time to read but they have to see if it is what THEY want. They will say YES or NO.
Interest score: If you were a journalist, a customer, would you read it and share with others? Make sure it has hot topic, debate, controversy. Good news is not boring stories that everyone talks about but what people are AFRAID to talk about.
Where to Submit Press Release? Submit to Paid Press Release Submission Services and Free submission services as well.  My favorite one is PRWeb.com, 24-7PressRelease.com
Plus new method is Social Media News Releases
2 . Your Business Blog
Blogs are HOT. They do wonders for online publicity. Businesses use them to communicate, engage, share stories. They are more flexible than press releases. Blogs are personal.
Allows to build relationships with customers and other bloggers via consistent blogs posts .
No need to be a professional writer: Education, information and sharing news via blog in more informal way.
Great way to get recommended by other bloggers and social media pros to get fat piece of viral free traffic.
You can add many videos and images which are awesome for SEO purpose and brand awareness
My advice is to host your own blog. Use hostmonster.com, godaddy.com and other hosting services to get your WordPress blog set up. Once you set up the blog, now you can add content, articles, insert videos you made and even add press releases as a blog post.
Blogs are great to get ranked fast: with proper targeted keywords, links to authority sites with your fresh content published on  hubpages, ezinearticles and video channels you can get your content shared fast!
You must determine your niche and focus on only ONE area of interest. Don't try to mix passion for cooking and your recipes with your home business or your passion for sports. You can create several blogs if you wish.  Write about what people want to buy over and over.
Focus on 2 keywords per each blog post to be safe. Make it natural. Search them using the tools. The less competiton and more searches better it is for your customers to find your post.
Resources:
Use images in your blog post to keep attention going. Google has advanced search tool Google Images. See advanced search and make sure that you use images for commercial reuse. Images are great for SEO. Make sure give them title that has keywords you want to target. Simple right? Use Flickr.com account for it.
Use videos in your blog post: some people call it v-logs. Transcribe your videos into content/article and it will allow customers to read and view it. Copy and paste html embedded code you get from your video channel . Video Blogs are great to push any negative reviews down as well.
Use syndicated content sharing communities:
Recommended:
3. Distribution of your content:
After you have a website or a blog, created a press release you must announce to the world that you do exist:
I recommend few PR services to submit your sites and your stories.
According the creator of URLWire, "The mission of URLwire is to help create awareness of your content, and while doing so attract high quality links from trustworthy sources."
You can distribute your press release to A-list media sources selected from a database of thousands of journalists who opt-in to receive our press releases.
Radio or TV press releases:
Want to submit your story to radio and TV stations
4. Media Kit:
With your press releases, your business blog or personal website, your online biography, your clients testimonials, your recent media appearance , even in small online publications you must put together a media kit.  It shows all your achievements, your stories, your customer studies and recent events you attended or spoke at. It shows your clients and  your business associates you are serious. It is easy for media to get an idea about what you do,  your personality and your skills.  It builds awareness about your name, your brand. Very important in brand management and achieving best online reputation!
We will talk about media kit in the next training blog post.
That is your first assignment this week.
5. Social Media Monitoring Tools
You must have the right tools to see what customers talk about you and get accurate results. They are important for reputation building and managing.
a. TrackUr with Andy Beal ( from 18 bucks a month to 377 bucks a month you can be aware of who talks about you and what they talk about.
b. Vocus (they have paid social media tools to discover media mentions and what they say about you or your niche)
c. CisionPoint ( they also have social media monitoring tools to monitor all online mentions)
I hope these guidelines were simple. All you have to take is action! I also recommend to hire a reputation manager or a publicist with knowledge and understanding of social media and SEO to manage and monitor your brand reputation.
Have a great week,
Tatyana Gann
Tatyana Gann is the founder of the Smokin' Hot PR Ezine and Smokin' Hot PR Boutique, providing publicity, online PR services and even private VIP consulting. Tatyana Gann is ready to bring you publicity tips, advice and PR services to help you gain more raving fans for your business and create smokin' hot publicity! She has a simple formula for creating a publicity plan that brings results! Grab your FREE publicity weekly advice at: http://www.smokinhotpr.com/