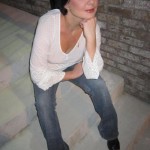 It is FINALLY Friday  and in my weekend newseletter "Passion Infusion Weekend Edition" I decided to share  my heart, give you insights into my soul to serve you better . Some  folks will say "Oh that is too vulnerable…." but some readers will hopefully appreciate what I am about to share.
After my almost deadly spider bite and seeing an emergency clinic doctor, taking blood cleansers for almost two weeks, a lot of prayers and healing thoughts, I am FINALLY better! I want to say thank you for all prayers and love!  As my thank you to you I wanted to share with you some insights that hopefully will give you aha moments or inspire you! My kids of course believe mommy can be called spider-woman or black widow avenger! Just love my sons!
So…
I think the spider bite I had was very symbolic. I believe it woke me up and I experienced new senses, new energy, new feelings and desire to be even more healthy than ever. It meant stopping the outer influence and making decisions what are best for me. ONLY me…Selfish? May be. But…I felt better, more confident and stronger after that deadly bite.
I do not crave things I used, well except of dark chocolate …But the truth it brought a new meaning of life and knowing that life is a precious gift and we often take for granted what we have NOW. Here is what I learned and realized:
No matter where you are in life you must believe you deserve the best. You should always elevate yourself above every little problem and know there is always solution to any problem. You mind is infinite. Only you believe it is not…Time to start believing and affirming you have answers. I know what is like to feel anxiety and to panic about things that do not matter, be hurt and feel hurt for others, to share compassion to receive love and compassion and know how to self love. It takes practice. It takes belief in yourself and in God his divine powerful spirit that speaks in you..Nobody can tell you how you can solve this or that because ONLY you know!
Never doubt that there is a better way and way out of any situation. Never give up. Giving up is a low energy and God does not give you more than you can handle!
You do not have to tolerate feeling bad, suppressed, and not being heard…You can live life with joy and inner glow because YOU have the right to speak the truth. God gave you everything..Start writing…Your voice matters…
Be a person of courage, speaking truth, a person of integrity and saying what is in your heart. Leaders don't kiss somebody sweet bottom and worry about what they think. True leaders don't attach themselves to money but serving people..They know their self worth. They pay price for honesty but in the end they lead!
One more thing….Since I have been writing my book  I had another aha moment. It is not ENOUGH to believe. you must decide to believe in your life dreams, in who you are. Decide. Be certain. Clear cut decision. Period. Enough.
Decide to believe.
Decide to have faith.
Decide to move forward.
Without a decision everything will be unstable and not solid!
Have a great weekend!
Tatyana Gann