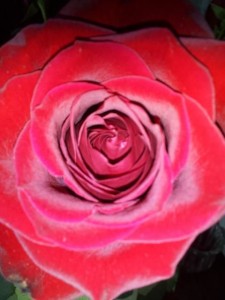 When I think about the definition of passion and the best way to describe it, I think about a beautiful rose blossoming and showing off its beauty! It has the sweetest nectar and attracts everything and everyone around. It gives your body and the mind the most beautiful, electrifying feeling!
 A Rose represents happiness. It is a flower of passion and love. When I look at a rose, I immediately think of a gentle flower with thorns to protect its beauty. It inspires people to express love and passion, to show gratitude and appreciation. Passion is the foundation of everything we do in life.  Only when we are passionate about ourselves and what we do, only then can we truly become beautiful people. This is what a rose does. It brings out the best to the world. It knows its purpose. It represents passion in life. It does not have to pretend to be something else.
Are you pretending to be something else? Are you exhausted to live  a life that looks good on a paper but in you heart tells you something else? The truth is when you pretend to be something else or suppress your dreams you will need to reignite your passion and sometimes, it can be a kick in your booty.
Over years I have had many discussions on the topic of "PASSION" and the journey to rediscover my own passion was a tough one, but it taught me one lesson- STOP LISTENING to what THEY SAY, because usually the ones who tell you what they think you should do in life,  do not even know what to do for themselves!
What is the TRUE passion? Passion that brings you great success or passion that is fun and just your hobby…?  How do YOU define true passion?
What if… you have NO clue what passion is…You have been told what your passion is or should be…You were around the people who were also told what their passion was.  You created an image in your head about what passion was supposed to be, thinking it was passion, until one day "that passion" was dying… You work hard. You think about problems. You do not enjoy your work. You resist. You fight  yourself and you still try to do something… but you feel no passion! Only commitment.  You want to do the right thing… but FOR WHOM?
We often think that when we are passionate, we must work MORE …and force ourselves to work MORE to justify owning a business  because somebody told us it was the way it should be BE. NOPE!…You do not need to slave hard and force yourself to create success. Passion is energy. It does not force people to do what they do not love to do or be around people who are totally different and do not understand them. The work you do that is filled with true passion flows with ease and joy! If you sweat in your office till 3 am, you are doing the WRONG thing, my friends… YOUR passion will slowly fade away.
When the passion within you is dying, it may be just a thought… Every time you feel your passion is dying it means it is time to look deep inside and remove the layer that does not serve your purpose. Only then you can experience a TRUE awakening!
People are often confused about the true meaning of passion . We think we are losing passion… So we have two things happening: We lose this "fake passion" and gain 'the real one". We think we lose passion, but instead, we lose the layer of who we used to be, the fake layer that needed to be removed so that we can experience an awakening…and feel ALIVE!!!
When the "Old, fake YOU" is dying inside, no real passion is present YET… you feel a hole in your heart and soul. A part of you is gone…you feel empty…and do not know what to do with that feeling of emptiness. But do not rush to fill that emptiness with something that does not serve your higher purpose. It is time to listen to the silence of the inner emptiness. Know it is the start of reviving your inner fire- your  true PASSION.
My personal advice: Recharge. Give yourself a break.  Do not rush to fill your heart and soul with things that are NOT of your core values. Do not do things to please others. When you recognize that the "fake passion" is gone, it is your first step to a new life. Do not go backwards. Give time to refill your soul with "REAL authentic passion".
Often in the most serene quiet moments in your life will allow you to see your passion very clearly. Passion will keep your business grow and you will be able to build a solid brand! Without passion, positive attitude you will not believe in yourself and what you write. It means your readers will NOT believe what you say because they will FEEL it. TRULY ask yourself what you are and what you can do to impact others!
Your Coach Tatyana
Tatyana Gann is the founder of the TatyanaGann.com , providing publicity and branding consulting/coaching for her clients worldwide. Tatyana Gann is ready to bring you publicity tips, advice and PR services to help you gain more raving fans for your business and create the rockstar publicity! She is ready to infuse your life and biz with passion and inspiration! Grab your FREE publicity and biz weekly advice at http://www.TatyanaGann.com