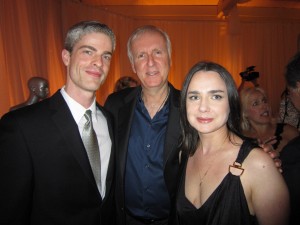 "Are you ready to create a long term celebrity status and be in the spotlight?
I has a privilege to meet an amazing man, the man behind the brilliant movies Avatar and Titanic, Mr. James Cameron. He has taught me a huge lesson.  Just recently I stumbled across my photo I took with him at the fashion event in Nashville and I witnessed him being in the spotlight for the entire evening. However, what I saw was the man who wanted to have life, talk about life and children, his trip to Russia and not his movies. Our conversation was not about his movies but him and his life. We talked and shared stories of Russia, his research on Russian submarines for his masterpiece Titanic, our kids and homeschooling. Believe it or not I was VERY happy that I did not have to talk about movies. His publicity  does not portray him as a man who has any life but a man who only has HUGE passion for movies along with all gossips you read!
The point here is the stories we share today, become stories readers see in magazines and then online, via social media networks and even on my own  YouTube  channel.
We created stories that stick. We created memories that are saved in the archives of our brains. That is EXACTLY how our publicity works.

Let me go back and give you overview of all changes that have occurred in the business world in the past years…
Times changed. Business owners today use small communities and networks to make connections and build relationships.  As you know relationships are always been the main thing for big dawgs in PR world and marketing.  Without right connections you will not be able to connect to media and if your goal is to get booked on TV shows, be publicized in the top magazines and constantly get the best PR you have two choices.
Without relationships your business is dead
Here is one thing I want you to remember before you start promoting your product or service to the public and spend money on PR and marketing campaign. You must ask yourself if you were a customer would you buy from yourself. People do not buy from ads they buy from loyal consumers. As you can see from my story above about Mr Cameron, his success is his publicity.  Movie fans trust him as the movie genius and they will buy everything he has to offer to the world. His name is his publicity!
Think for for a moment about the infomercials… They have always been the best method for business owners, innovators, product creators to push their products on t he market and reach more people. It was truly the beginning of the PR wave. Then you might see them in the store saying "Seen on…." It was the best PR campaign idea to share stories and people bought it because they trusted the stories not the product benefits.
My PR advice: The celebrity status is not overnight deal and your publicity is not going to give your an overnight success from the very moment your clients see your face. Build your reputation, share your value, give and you will receive!
The magic word of a successful publicity campaign is TRUST. Building trust is taking time in every area of your life. Today in social networking communities we build trust by connecting with people we want to know and contribute to their community. We give advice, comment and share our knowledge. We become the source of the information that they cannot get anywhere. Media notices us and buyers notice us. Everyone talks. They share our stories, our content with others. It goes viral and it stays there! That is what publicity does for your business. It sticks!
One thing you can be assured about…
Your journey to become well known or famous does not need to be complicated. It starts with a very simple formula that can stir up interest and bring more attention to YOU. Keep things simple. Remove what does not serve you and do not resist simplicity.
Well…
First three things you must know.
1.   Who you are
2.   What you do and if you really love what you do
3.   Why it is important for others and  you as consumer first and then as a business owner
How can online publicity help you to grow your business?
It is proven that publicity can do the following for you and put your name in the spotlight.
1.   It creates your name for customers to know you
2.   It is all about visibility. You become the center of attention. You are on the main stage right in the center, right in the spotlight
3.   Publicity gets your main message to the public. If you do it on your own or hire a publicist it is a great way to share stories. As I said earlier people pay attention to stories of consumers not ads.
4.   Publicity can compel people to buy your products if you have enough of points that can stir up emotions for them to buy
5.   It can truly put you in the beautiful spotlight where you feel like a star
6. It allows you to use your imagination and creativity to grab attention!
That is why we write SEO and social media press releases to give our clients more exposure. They can give instant traffic, they reach more media, they build your brand awareness and make everyone happy!
Now.. Why so many entrepreneurs, business owners do two things. They avoid publicity approaches or they quit before they see the end results. In the world where we want instant results we use the same approach to our publicity efforts. It takes time and realistically you must allow 90 days for publicity campaign to give you results you want.
Your goal is to build awareness of your name and what you do. Your second goal is to break ice with customers by serving, giving advice or tips. Common sense right? But so many avoid it or keep selling their product. Get people familiar with you and what you offer.
That is what press releases that share stories give more publicity, bring long term traffic and authority.
Advertising does not bring authority to your business. It brings traffic, leads and causes customers to think about your product. Yes it is fast and you do not need to plan 90 days publicity campaign.
Well, the cycle ends with PR again. They search for your name, your product and see the publicity given by third party PR directories, publications, bloggers and much more. They feel confident. They trust. They know you are a real person who is creative, genius, trustworthy, skilled and connected!
Now…what should you do to build your brand?
Book a PR strategy session and let the  imagination and vision for your business create magic!
Look forward
Tatyana Gann
Founder,  http://www.TatyanaGann.com
PR Strategist, Mompreneur, Coffee and Chocolate Lover

PS. Get my FREE 30 days course TODAY!  Learn  to create fun and creative PR campaigns and be in spotlight- absolutely FREE training!