May 10, 2012
From the desk of Tatyana Gann
Today I want to honor a special woman. Her name is Trisha Springstead, CEO of ESP Botanicals, a woman with a big heart, passion to bring change in the world of organic and natural skincare.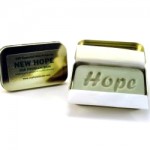 In honor of Mother's Day Celebration, ESP Botanicals gives every mother  Mother's Day gifts that she really wants- the perfect gift of healthy glowing Skin. ESP Botanicals is a brand new line of organic, non toxic skin care and baby care products inspired by a mother and a daughter's mission to bring changes in the skin care industry.
ESP Botanicals is a new upscale line of all natural and organic skin care which is formulated without parabens, restoring health and purity back into women's delicate skin. ESP Botanicals CEO and product developer Trisha Springstead shares her vision for her organic skin care line that every woman should have in her vanity room. Her mission to bring the safest products in every family started when her mother was diagnosed with a terminal cancer. Springstead's mother became her inspiration and the main reason to build awareness about the dangers of the commercial skincare products for women and babies.
Trisha Springstead's mission is to educate consumers about the harmful skin care products they use on a daily basis and about new healthy organic skin care options available with ESP Botanicals. Trisha Springstead points out "What you rub on your skin can kill you!"
Arriving just in time for Mother's Day, ESP Botanicals make the perfect gift and come packaged in a Swiss Miron Glass to add that personal touch! It is a perfect gift to all moms and honoring her mother's life!
Trisha Springstead's ESP Botanical line uses only glass and non- leeching, reusable boxes. The company does not endorse any chemical or herbal placed in plastic.
Infused with the best oils and fruit botanical extracts, the new skincare line is a piece of heaven!  ESP Botanicals' customers (including many international celebrities) have achieved tremendous radiance and total skin perfection!  It is truly a magical awakening experience when the balms gently touch your skin!
Springstead believes that women should not settle for cheap quality skincare. She has extensively evaluated all the ingredients and combined perfect natural and organic blends into her products, so that women can feel confident and beautiful, inside and out! With so many so-called "healthy" skin care lines, which are loaded with fillers and potentially harmful chemicals, the nourishing formula of ESP Botanicals protects and restores your skin… naturally!
Trisha Springstead pointed out, "I have conducted extensive research of countless organic skin care brands, only to discover that not all of the ingredients are safe and effective. ESP Botanicals have been specifically formulated and developed to contain the highest quality organic ingredients for moms and babies, ensuring only the purest, most natural results!"
Preventing toxic chemical overload, ESP Botanicals brings the most green products to the organic skin care marketplace, creating products that women can feel confident in using for not only their delicate skin, but also for their baby's gentle skin!
Finally, an organic, green, non toxic line of body and bath skin care products that will leave your skin feeling clean, light and nourished! When choosing a Mother's Day gift or even a baby gift, you cannot go wrong with an "ancient beauty secret in Swiss glass"!
In a recent interview with PR strategist and publicist Tatyana Gann, Trisha Springstead stated that her skin care line is the hope that men and women have been waiting for… no longer do they have to be controlled by the way their skin looks and feels!
Who can it help?
Moms with infants and children up to the age of 12, who are seeking organic, natural skin care for the entire family
Individuals with skin problems can use the products to clean, protect, sooth and heal
Consumers who believe in the green way of living, a chemical free lifestyle
Finally moms can experience an "Awakening to Healthy Skincare"! There is always time for a new beginning… and new skin!
To get instant access to ESP Botanicals products, visit www.ESPBotanicals.com
Please become our fan at http://www.facebook.com/ESPBotanicals
Please share this story with you loved ones!
The original press release can be read here
We wish you all Happy Mother's Day!
Tatyana Gann
PR Strategist, Mom