]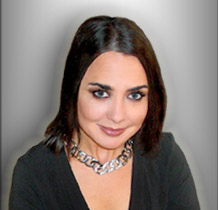 If you are feeling stuck and frustrated, I want to invite you on a journey with me. I love this quote by Albert Einstein "No problem can be solved at the level of awareness from which it was create" You cannot solve problems with the same mindset you have created them. You must work on your mindset and transform it to achieve new results.
By working with me we will work on your personal awareness, becoming a good problem solver, a better decision maker and rebuild your confidence. You will feel free in expressing yourself and have less fear and confusion.
 One of my clients gave a quite powerful feedback just after our first session:
"I had the opportunity to meet Tatyana. She offered me some time to help me identify my personal growth blocks. Tatyana is kind, professional, assertive and helpful.  she took the time to help me realize my blocks and gave me useful tools to start changing my paradigms, beliefs and habits. I am grateful for her work as a coach because she has helped me to change my perspective about my current circumstances and gave me some tools to implement in my daily spiritual practice." Anna
That is why I want to give back to my readers and fans who have supported me in many various ways. For the next 5 DAYS   I am giving up to 50% on all my coaching packages.
Transformational 90 Minutes Life Coaching Strategy– (50% OFF) The 'Personal Blueprint" to get life back on track. Special Price—$150
Special Value Package–4 Monthly Coaching Transformational 90 minutes life coaching strategy sessions (50% off)  You can use these sessions within 60 days  Special Price-$600
90 Days Transformational Coaching One- On-One – (30% OFF) Get all the tools, resources, weekly coaching worksheets to work on your inner issues to transform your life, become free from fears, doubts, regain self esteem and boost your confidence, set new goals in life and see them happening.. You will learn strategies to tweak your beliefs and write a new life story.
You will get new insights that will help to push you forward and learn what has been stopping you from your ULTIMATE state of happiness, joy and achieving a satisfied life..You will have an immediate and ongoing access to the resources and my personal weekly  email and Skype support to transform your life.
Special Price $3000
Fill the application for my short term 90 days program
Transform Your Life — Transform Your Story Coaching VIP Level — ( special pricing is available) (applications only)—My 6 months mastermind that includes 10 modules and it is not for everyone. I only take 7  clients starting October 15th.
I have been inspired to create this private and ultimate program to help  business owners get their life and business back on FAST TRACK and get all the tools, resources and even get done for them services as a part of my special offer. Why do I do that?
Well, I know what it takes to start a new business.  It includes your mindset, your beliefs, your goals, and your vision for your life…It is about your visibility and credibility. It is about becoming known. It is about being good at storytelling and sharing your new story of transformation and being truly passionate about it.  It is about believing in your product so much that you want others to hear about it. Your passion will finally shine.
Here is what you will receive during the next 6 months working with me.
We  will work on 7 steps to transforming your life so you can learn how to live in the state of joy, happiness and be satisfied with your life.
You will learn the spiritual and personal development principles to change your mindset and be free from the beliefs that kept you stuck.
You will have resources to reduce stress and resolve issues using mindset techniques.
You will learn how to share passionate stories to attract media and pitch media…at the right timing. We will work together because it is not an overnight success.
You will learn how to share your life or business lessons to gain an expert status
You will learn a spiritual or heart centered approach to sharing your new story.
Plus get done for you content creation as a part of my BONUS.
That is why I put together this VIP 6 months program to transform your life and create a new story that filled with courage and confidence, radiating passion, joy and happiness. It is a program that will empower you to transform lives of people around you, either in your workplace or your business and even your loved ones.
So, if you are looking to  get new insights on your life and even business,  raise above all nonsense given by gurus with no lived experience, then let's talk. I only teach what I know and what I have done and what has worked for me personally.
The price per person is 400 per month, 6 months mastermind agreement.
Fill out this application and I will get back in touch with you to schedule the best time to discuss the program.
Have a fantastic week!
Your coach Tatyana